The success of E-Commerce in Thailand
The economy related to the digital usage market in Southeast Asia has shown tremendous potential in recent years and its market value is predicted to drastically increase in the coming days. Within this, e-commerce holds the highest market share, ahead of online travel and online media. Within Southeast Asia, Thailand ranks second after Indonesia in terms of internet economy size. Thailand has demonstrated high internet penetration rates throughout the past years and also experienced a booming e-commerce market.
Rise of the e-commerce market in Thailand
Newer technologies and extensive internet accessibility have allowed Thai consumers to manage their lives with convenience and simplicity. Online shopping has become a popular choice for Thai consumers with increasing hectic lifestyles and busy schedules.  E-commerce value has shown growth across various key industries in Thailand such as insurance, transportation, arts, and entertainment.
COVID-19 Pandemic Impact
The COVID-19 pandemic impacted the economy and lifestyle and caused some drastic shifts – the boom of virtual classes in place of regular classrooms, from international travel to virtual calls and meetings, from office traffic to telecommuting; from shopping malls to e-tailers; from dine-outs to food delivery at home – the list seems to be endless in this new-normal world. Thailand has fared well in all these shifts, though like all other countries they also want to get back to the normal world.
This switch to the virtual world has forced almost all sectors to go digital. Studies reveal that the population, led by those older than 65 years of age,  has embraced the use of social media around the world. This growth rate, improved connection speeds, the steady rise of e-commerce, and a few other changes in the digital universe are creating new conditions that, if used strategically, would be beneficial for business in the coming days.
e-COMMERCE SURGED DURING THE COVID-19 CRISIS
E-commerce in Thailand expanded dynamically in 2020. During the months of March-May with the lockdown in force, consumers were noticed to make regular online purchases across almost all product sectors.
Opportunities for price comparison amongst players and competitive pricing offered by e-commerce channels were a few of the key important factors that led to its popularity in 2020. The measures introduced to arrest the spread of COVID-19 had grave economic consequences, including job losses and salary cuts. Retailers targeted consumer price-consciousness by designing promotional activities and campaigns to hit the soft spot.  Leading marketplaces such as Lazada and Shopee also supported the expansion of e-commerce by introducing different discount campaigns. Lazada has managed to become one of the exemplary performers, with it being a popular one-stop location for a wide range of items. Online food delivery portals upped the game by offering free shipping and removing the burden of minimum order value.
ECONOMY
Thailand homes almost 70 million people with a total GDP of US$407.03 billion and GDP per capita of US$6,890. This is expected to reach US$8,222 by 2025.
DIGITAL USER INSIGHTS
There are currently around 36.6 million online shoppers in Thailand, who spend US$243.17 online annually. It is expected to reach 43 million users and an ARPU of US$283.33 by 2025.
.
 
We get a better picture of the Thailand e-commerce market by dividing internet usage into age groups. 76% of users in the age group of 15-19 years, 52% of users in the age group of 20-29 years, and 34% of users in the age group of 30-39 years use the internet. The older generations log on at less regular intervals with 40-49-year-old users showing 23% internet penetration, and 9% of those over 50 years of age logging on
.
INTERNET USAGE
Internet penetration is presently at 79.3% and is projected to reach 83.3% by 2025. Thai users spend ten hours a day on the internet on average.
PRODUCT CATEGORIES
The total revenue of Thai e-commerce across all product categories is estimated at around US$8.9 billion, and it is expected to grow to US$12.3 billion by 2025. The leading product category in Thailand is Electronics & Media, accounting for a US$2.6 billion market share. It is followed by Toys, Hobbies, and DIY, which generates US$1.7 billion in sales.
Electronics & Media is predicted to be the most purchased online category, with an estimated value of US$3 billion, and the second favourite, Toys, Hobbies, and DIY will have an expected worth of US$1.51 billion by 2025.
PREFERRED ONLINE PAYMENTS
The majority of online buyers opt for Cash on Delivery for payment against online purchases, accounting for around 60% of payments.  Credit card penetration is at around 10% in 2021, which is expected to reach 14% by 2025.
Source of Items
Thailand sources its items for sale from countries like China ($45.6 billion), Japan ($31.6 billion), Malaysia ($13.9 billion), the United States ($12.8 billion), and Singapore ($9.86 billion ).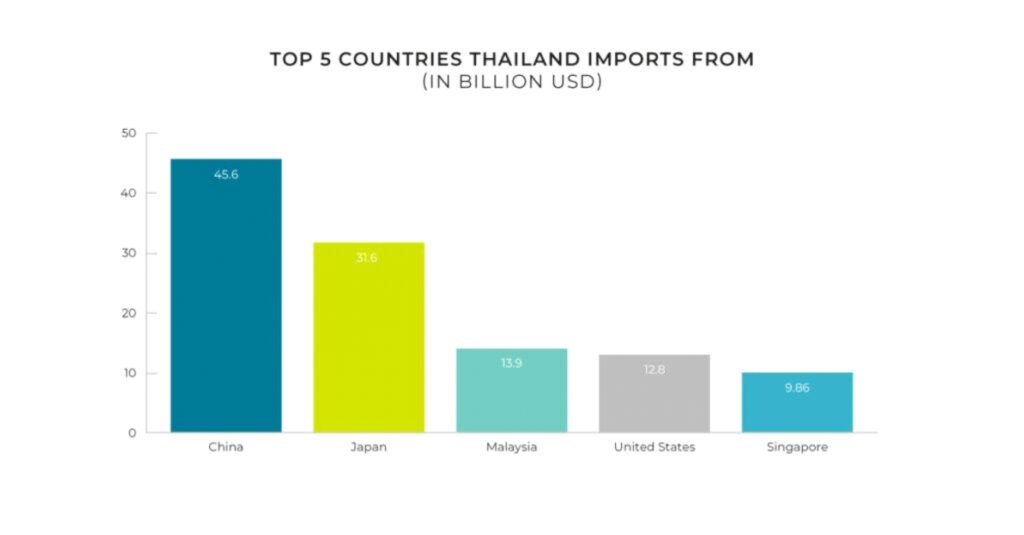 INTERNET AND DEVICE USAGE
In Thailand, internet penetration is currently at 79% and is expected to reach 83% by 2025. Smartphone penetration is at 79% and is projected to grow to 83% by 2025.
DOMESTIC E-COMMERCE MERCHANTS TO PROMOTE SALES GROWTH
Recent studies reveal an increase in the number of domestic e-commerce merchants would promote sales growth. Consumers of Thailand have a strong appetite for international goods and brands as it is seen that cross-border spending makes up a major half of Thailand's total e-commerce spend. But in actuality, there are no major domestic e-commerce players.  China, Japan, and the U.S are the top three overseas sales destinations. The graph may shift if domestic merchants begin to make their presence felt in the digital market scenario. At present,  Lazada, Shopee, and 11street are the biggest e-commerce sites in the country by traffic, all of which are international players. This would change with the entry of domestic merchants. 
DELIVERY INFRASTRUCTURE
Thailand's e-commerce delivery infrastructure is in a developing stage. International courier businesses including UPS, FedEx, and TNT have established powerful domestic delivery networks. Also, there is growth in the number of warehouses and local providers who offer express services.
With the increasing number of delivery providers present in Thailand, the shipping costs come down which makes e-commerce a lucrative option for end consumers. Partnerships are being formed between merchants and couriers who offer expedited delivery in certain parts of the country. This in turn raises expectations of delivery speeds.
 
The Future story
Thailand's e-commerce landscape will keep on changing as more consumers opt for online avenues and use their mobile phones in every walks of life –  work, entertainment, shopping, and socializing. But such rapid growth will bring about new challenges for the companies who want to be successful in the online retail industry. Brands and retailers will have to focus on increasing consumer engagement and they will need access to data and consumer touchpoints facilitating that. Researches suggest that the most optimum path would be through greater integrations between media and commerce. This will expand the types of services and products that are consumed online and the way by which they are consumed. The role of influencers, celebrities, and ambassadors to help consumers engage with brands is also noticeable. Many luxury brands consider direct-to-consumer as a valuable channel to create a unique customer experience and thus build brand loyalty. The direct-to-consumer model enables brand manufacturers to forecast demand, better understand their consumers' needs, produce less waste, and get higher margins for their products. Thus direct-to-consumer and social commerce might become the next largest online retail channel.
The Marketplace business model is going to be opted by many brands and retailers as a part of their retail strategies.  It is already being seen that big names across different industries are launching marketplaces for specific sectors.  In Thailand,  there is nocnoc.com, a marketplace for home and furnishing, and Zalora for fashion both are reported to be getting good traction.  Local marketplaces for different categories such as luxury, beauty, healthcare, home, and living, and niche categories such as auto parts, pet supplies, etc. are bound to come up soon.  
Consumers are expected to spend more time online. Thus companies have to follow the same route and adapt the marketing, distribution, and retailing strategies according to the same.  Online and offline are getting merged slowly and those companies who provide an omnichannel experience for consumers would be successful.  Omnichannel experience for consumers would help customers to engage and buy their products from anywhere, online or offline, with a variety of options – pick up in-store, ship-from-store, or deliver to home.
Consumers will adapt to new retail formats in the coming years. Soon, new channel formats such as chat commerce, live streaming, video commerce, social selling, and group buying will also be in vogue.